Since moving to the UK for work last year, I have not been able to run my trains as often as I'd like, with the rooms in the new house not large enough to operate my current layout, Abbotsbury. This is a 1980s era station and small diesel depot that I built around 7 years ago whilst I was abroad. It's DCC-operated (both via handsets and JMRI) and was my first serious attempt at a model railway. Whilst it's finished to a relatively high standard and it's reasonably reliable, it has a few shortcomings that have frustrated me for a while (poor baseboard construction, lack of uncoupling magnets, uneven baseboard joins and an awkward fiddle-yard design)
Towards the end of last year, my Dad and I had been thinking a lot about a simple module concept, whereby we would build 1-1.5m sections, all on a similar theme, that we could then either operate separately or together as a larger layout.
An unexpected present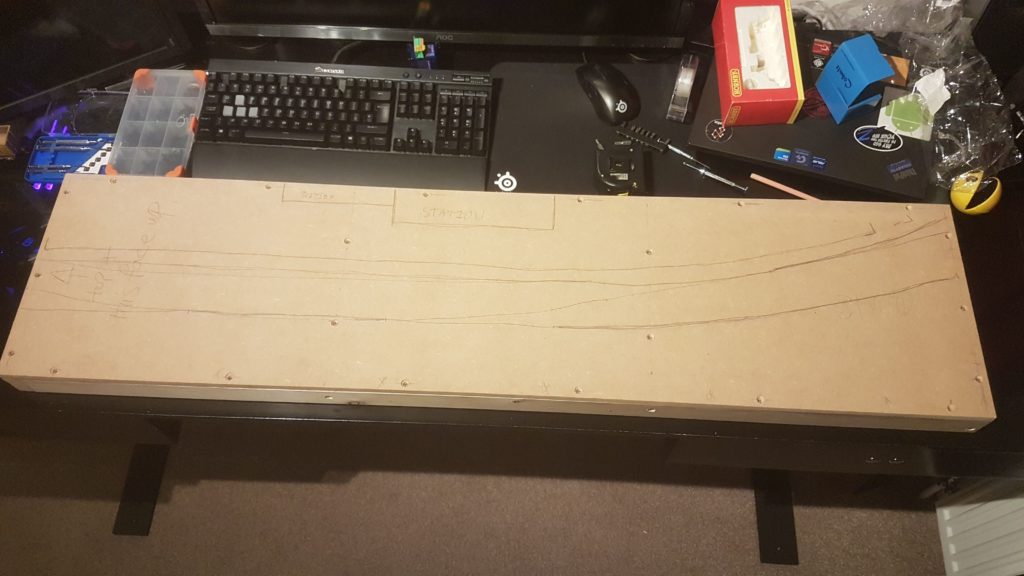 The story of this new layout begins with a Christmas present from Dad, in the form of a pair of pre-assembled baseboards, constructed in the classic manner from 12mm MDF sheet and 45x22mm batten. Each board measures 1220x310mm, giving me a total length of 2.4m to play with.
The board dimensions were chosen so that the layout, when built, would sit nicely on the PC desk I built last year. This is important because the office in which this desk is located is about the only space in the house where I can have a layout out for more than a day or two. This desk can also be raised and lowered by two powerful electric motors, with a total lift capacity of 160kg. This means I can operate (and work on) the layout at the right height, whatever the task.
Initial ideas
Due to the limited space available, I have decided that there will be no extra board for a fiddle yard, instead the hidden section will have to be in one of the rear corners of the layout. This brings with it a few challenges, but I am determined to make the layout fit. The way I see it, if the layout is easy to assemble and does not get in the way, it can be left out and will therefore get much more use.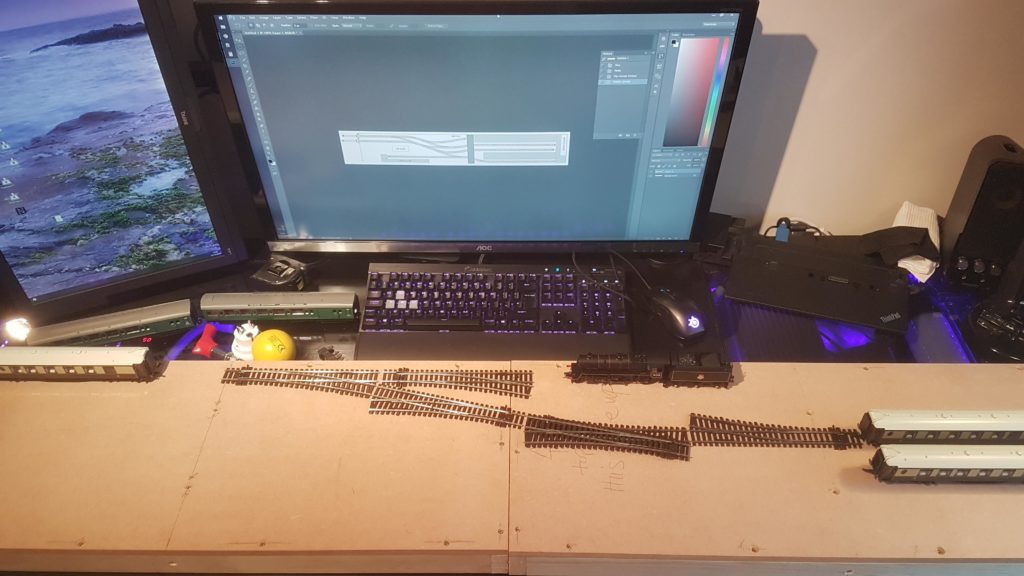 After much googling and looking in railway books, and after considering several variations on the classic Minories theme, I finally landed on a relatively simple plan consisting of the following:
A small station on the right-hand side, with a three-coach loop for running round. This will be a terminus, with trains entering from the left.
A main platform capable of holding four coaches.
A short bay for railcars, single-coach trains or parcel unloading. This can also be used for pilot loco operations when trains longer than three coaches need to be turned around.
A small goods platform on the right, parallel with the station loop headshunt.
A reasonably large industry on the left hand side of the layout, accessed via a point from the station loop. This industry will have three sidings, once of which will run into the building. I am not sure what this industry will be, perhaps a brewery if I can make it work in the space available.
A road or rail bridge separates the station from the industrial area, and also forms the scenic break that hides the small fiddle yard.
The fiddle yard will be a single line, most likely using cassettes to make stock handling easier. This will have the added benefit of allowing the cassettes to overhang the left-hand edge of the board, which will allow me to run three-coach trains.